Restaurants
A day of living life with no sense of time can work up an appetite and you will have your choice of mouthwatering fare at any of the 3 restaurants onsite. Whether it is casual pool fare, fine dining or a tropical cocktail to sip, we've got you covered.
The right on the beach Privilege Beach Club, indoor and overlooking the beach Sabor, the oriental specialty restaurant Satay, fresh and cool Pool bar plus cozy and charming Sabor terrace lounge bar.
Common throughout is an open-plan layout, a flood of natural light and a seashore soundtrack.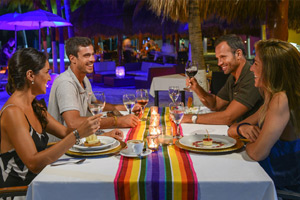 Privilege Beach Club
Breeze, sun and sand in this beach club with unbeatable service where you can make use of the loungers and small palapa-shaded tables, or just lie out on the white sand. Beach attendants can bring water and even take food and beverage orders, (Shrimps tacos anyone?). While beautifully landscaped Privilege Beach Club is also worth for dining alfresco in a romantic setting.
Located on the beach, in front of the hotel
Social gatherings allowed
Group dining subject to availability (see our weddings section)
Open for Lunch 12PM – 5PM
Open for Dinner 6.30PM – 10PM
Beverages: A variety of cocktails & tropical beverages
Specialties: Meat, fish & seafood
Open Hours: From 10am to 10pm
Bar closes 11.00pm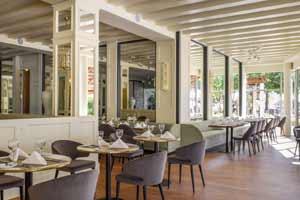 Sabor
With a fresh and vibrant look, located on the hotel ground floor & facing the beach. Nab a table at the Breakfast (buffet), Lunch a la carte or Dinner buffet Lounge Bar Sabor Terrace closes 11.00pm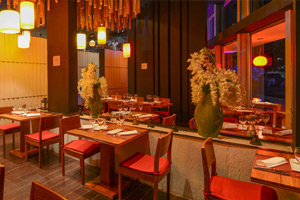 Satay
The perfectly conceived restaurant, located inside the hotel
Specialties: Thai & Oriental cuisine
Open for dinner (reservation required)
Hours: From 6pm to 10.00 pm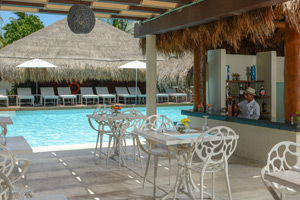 Pool Bar
The place to make a pit stop for a margarita.
Classically tropical, with nods to the Caribbean colors, a lounger-dotted pool is at the heart of the resort, surrounded by breezy manicured lawns and palm trees in the gardens.
Located on the hotel terrace ground floor, by the pool
Only hotel guests are allowed
Open for lunch (snack-bar)
Hours: Bar 10.00 am to 8.00 pm / Snacks 1.00 pm – 6.00 pm
Specialties: Cocktails & tropical beverages